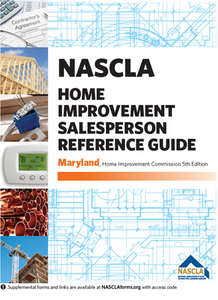 MARYLAND-NASCLA Home Improvement Salesperson Reference Guide, Maryland Home Improvement Commission 5th Edition
ISBN: 978-1-934234-95-2
The NASCLA Home Improvement Salesperson Reference Guide is organized into two sections.
Part 1 focuses on preparing you for the licensing exam.  This section will help you understand licensing requirements, estimating, and contract management.

Part 2 covers completion of the home improvement licensing application including fees, instructions, and sample forms.