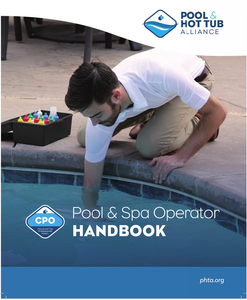 Certified Pool/Spa Operator Handbook, 2020. The National Swimming Pool FoundationⓇ (NSPFⓇ) is proud to announce the eighth installment of the Pool & Spa Operator™ Handbook since 2004. The 2020 edition includes needed updates and additions that were provided by NSPF Instructors and industry experts throughout the past three years, since the last publication in 2014. 
In a rapidly evolving aquatic industry, NSPF strives to provide the latest and best information to aquatic professionals. Updating the Handbook, that is the resource guide for the CPOⓇ Certification course, is one way the non-profit accomplishes this goal. The 2017 Pool & Spa Operator Handbook is available for purchase now and will also be bundled with the purchase of the online Pool Operator Primer™ (POP™).
"Caring for pools and spas requires knowledge of chemistry, engineering, microbiology, physics, public health, regulations and more," states Thomas Lachocki, Ph.D., CEO of NSPF. "We are able to provide new, relevant details in the handbook thanks to all who help us keep pace with these fast-changing technological and regulatory knowledge areas," he concludes. 
General changes to the Handbook include updated text, charts, pictures, cover art, and acknowledgments. More specific changes include:
Updated Model Aquatic Health Code (MAHC) information
Modified volume formula
Updated stats on CDC inspections 
New studies on crypto, norovirus outbreaks, treating crypto, and legionella stats
Disinfectant charts and active strength percentages
Modified breakpoint chlorination, potassium monopersulfate, and metallic algicides information and added a section on chloramine prevention
Updated recommended pool temperatures per the Red Cross
Added information about the expanding industry of Float Tanks
Updated CDC stats about drowning, data on the Virginia Graeme Baker Act, and added Consumer Product Safety Commission (CPSC) text
Added information on Advanced Service Technician training
"We enable the swimming pool and spa industry to continue entrusting us with their training needs, by ensuring that our products are updated to industry standards with expert input from educators and leaders worldwide. Our products help keep pools safer, open, and efficient, encouraging people to live healthier lives," states Rose Lyda, Product Development Manager.